What Our World Needs Now. 
It may seems presumptuous of me to use a title such as this in my blog. Do I know what the world really needs now? There are some things most of  us want and many of us need. That list includes lower gas prices, a closed southern border, a good immigration policy, an impartial judicial system, lower food and heating bills, etc. I'm confident you can add more to the list that would have my agreement.
There is no question that many folks are facing some dire circumstances because of the issues I've noted. I am not in any way denying or trying to minimize those facts. However, there is an underlying spiritual issue that we need to be aware of and continually address if we are to live with the sense of dignity and purpose for which God has created us. I was reminded of this fact earlier today as I read a post from Dr. David Jeremiah. Here is a link to that brief and important message. https://mail.google.com/mail/u/0/?tab=rm&ogbl#inbox/FMfcgzGqRGSzlPHhKnCZGmXCFpPHTnWW
Dr. Jeremiah references Matthew 22: 36-40 as the background of his comments. I personally believe those verses serve as the direction sign to the meaning and purpose of our existence. They give us the big picture of what our brief time on earth is about. Food, clothing, and housing are essential to our physical well-being but these are rather meaningless if we don't know why we are here. These things keep us alive and functioning for what? Do we just live and die? Is that all there is? No, and this passage in Matthew is a clear message about the central issue of life.
I have recently published a book based on the conviction that these verses in Matthew hold the key to a purpose-driven, proactive, productive, and meaningful life. I want to invite you, challenge you to purchase this book. I believe you will agree this is one of the best investments you have ever made. The book is on sale for only $12.95.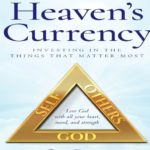 Here's how you get the book https://www.cosdavis.com/product/heavens-currency-investing-in-the-things-that-matter-most/