Welcome, I'm Cos Davis
Welcome to my website, cosdavis.com. Thank, you for taking a few minutes to look around for some things that you may find helpful. What brought you to my site?
Are you looking for some answers to questions about your marriage? Do you have concerns about discipline and other parenting issues? Are you seeking encouragement and ideas that can take you to a deeper level in your walk with Christ?
If any of this is true, I may be able to help you. My blogs and books focus on three areas related to our brief journey in this life: Christian Living, Christian Marriage, and Christian Parenting. 
I am a biblical conservative but do not use this website to discuss politics, per se. My goal is to address concerns in the three areas just mentioned, believing this is where I can be most helpful to you.    
My website makes it easy for you to find blogs or books that can answer the questions or concerns that brought you here. It may be helpful for you to take a look at the kinds of questions and concerns I attempt to deal with to see if you are in the right place https://www.cosdavis.com/questions-people-ask/.  If you don't find what you need, leave me a note on my contact page and I will try to help you find the help you need. 
There are two main sections to the website. You will find my books by clicking here https://www.cosdavis.com/ or by scrolling down to the next section. Several of them are available as e-books, as well as paperback.
You can choose a FREE digital copy of  Wondering/https://www.cosdavis.com/wonderings or Marriage Is What You Make It https://www.cosdavis.com/marriage-is-what-you-make-it/ in return for your email contact. Choose one of the books and go to check out and follow the instructions. Get you FREE book before you finish your visit. Your email address will be used only contact you when a weekly blog is available or to let you know of other information that may be helpful to you. No high pressure or flooding you with emails.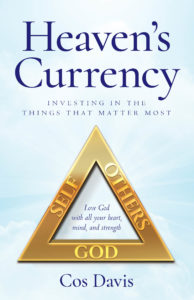 The other exciting news I want to share is that my latest book, Heaven's Currency…Investing In The Things That Matter Most will be available to order around March 1, 2022. I believe this is a book for our time, potentially a game-changer for those looking for ways to live proactively in a very difficult time in our world. I will alert you when you can preorder your copy. Be watching for how you can be the first to purchase your copy of this important book. You will recognize it by this cover.
Your reminder to check out my latest weekly blog https://www.cosdavis.com/blogs will usually arrive in your mailbox sometime on Wednesday morning. It will only take you a couple of minutes to find  encouragement and direction about your walk with the Lord, parenting, marriage, and other important topics. I have a subject index where you can "click" and look at all the blogs I have available for you to read.
If you have trouble finding what you need, leave me detailed note on my contact page and I'll see what I can do to help you.
Thanks for visiting. Come back soon. And, if you like what you see, tell a friend.
Check out my Blogs
Investing In The Things That Matter Most

Investing in the Things That Matter Most is the subtitle of my book that will be released in a few weeks. You and I are investors. That's true. And I will show you how we are investors, if you will continue to read for the next couple of minutes. Investing is a biblical idea. What do you generally think about when you see or hear the word investing? If you are like most people, you probably think about the stock market, houses, land, automobiles, rare coins, jewelry, or something else […]

If It's Good, It's From God

If it's good, it's from God. When was the last time you enjoyed a good cup of coffee or your favorite cold drink? Do you have warm, pleasant memories of good times with your family or friends over the holidays? Is your life good? Do you enjoy relatively good health? Do you have enough good food to eat? Do you sometimes stop to ponder how good you really have it? What about all that's not good, the evil in the world? I'm very aware of the fact that there is […]

New Year

I answered the phone and the friendly, familiar voice on the other end said, "Cos, happy New Year." I responded in kind and a few minutes later returned to what I was doing.  I began the first day of 2022 as I have begun almost every day for many years; writing in my journal, scripture, and prayer. As I meditated on the significance of the New Year, I became aware of a deep, comforting reality about my life. To me, there's no such thing as New Year Magic. But I […]
Let's Get in Touch
Contact me about speaking at your church, retreats, and other occasions about my book, Heaven's Currency, parenting, marriage or  or other family matters. I will be happy to discuss possible dates and other details. Begin the process by clicking    Contact Me  .