Today's blog is about prayer and anxiety. If you haven't read last week's blog on "The Ugly Face of Anxiety," please go back and read it before continuing to read this one https://www.cosdavis.com/the-ugly-face-of-anxiety. 
I believe a great deal of the personal pain and problems I mention in that blog could be avoided. "How?" you ask. By following a correct approach through prayer when we first realize anxiety is becoming a problem.
I don't say this to condemn or judge anyone who deals with chronic anxiety. I simply want to stress the need to recognize and deal with anxiety before it gets to the controlling stage. We need to" nip it in the bud."
What can you do to guard against anxiety becoming a controlling factor in your life? What is the spiritual antidote for anxiety? Simply stated, the antidote for controlling anxiety or worry is prayer. "That certainly seems simple enough," you say, "but I pray every day and I am still worrying all the time. Praying is not working for me" I know many wonderful Christian people who seem to make a practice of trying to worry their problems to death. Does worrying work for them? 
They may think they are being responsible because they are worrying about the problem but they are actually compounding it. That's like attempting to put out a fire by throwing gasoline on it. Worrying gives you something to do but it doesn't get you anywhere with the problem at hand.
The problem becomes more difficult to resolve because you have allowed worry and anxiety to take you to a place when you can't think straight or act rationally about it. They often feel defeated and may begin to believe that praying about things isn't useful. At this point, they may stop praying at all.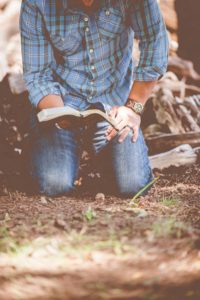 Scripture is very clear about the fact that we are not to be overcome by worry or anxiety. It is also without debate that we are taught to pray for what we need and trust God to supply it. In Matthew 6:25-34, Jesus contrasts the futility of worrying with trust in God to supply the basic needs of our life.
Worry accomplishes nothing related to our needs but does indicate we have taken God out of the equation. Worry is an attempt to not depend on God and solve the problem on our own. Not only is worrying useless, it also depicts a lack of trust in God and is an affront to Him. Worrying is a serious spiritual issue.
Let me mention a few of the many reasons why a person can pray about something and continue to be overwhelmed by anxiety.
The motive for praying may be wrong. For example, a person may pray for something in order to simply advance himself or his cause and not to honor God. James 4:3 tells us that one hindrance to answered prayer is selfishness in the way we ask. "When you ask, you do not receive, because you ask with wrong motives, that you may spend what you get on your pleasures." James also tells us in 5:16, "The effective prayer of a righteous man can accomplish much." What we want from praying is an important factor in getting our prayers answered.     
Effective praying involves an important caveat that some may not be willing to obey. That is, the request must conform to the will of God. Another way to say this is; the prayer must be one that honors God and advances his purpose. In the model prayer, Jesus gives us a broad outline of how to pray. One very notable feature of that model is the phrase, " Your kingdom come, your will be done on earth as it is in heaven." While God wants us to live in his peace, anxiety may overwhelm us because the issue we pray about is not completely released to his will. We may not trust that whatever he decides is best or really what we want to happen.
Effective praying requires unwavering trust in God. Here again, James' words are instructive to us. James 1: 6-7 reads as follows: "But when he asks, he must believe and not doubt because he who doubts is like a wave of the sea, blown and tossed by the wind. That man should not think he will receive anything from the Lord; he is a double-minded man, unstable in all he does." Answers to our prayers require that we trust God to do for us what we ask within his will. Doubting nullifies our praying.
Effective praying also has the quality of persistence. Do we really want what we ask God to do? How do we show we are deeply committed to what we pray for? By continuing to pray, to hang on, to persist day after day. Only when we prove we are serious about our praying will God give us what we ask for.
Motive, God's will, trust, and persistence are ingredients of effective praying. When considering these four things it is quite easy to see why God doesn't answer according to our wishes or why a person may give up on the work of praying. True prayer involves work on our part. It calls for us to keep our selfishness and pride in check, to abandon the idea that we can do things on our own, to be unwavering in our trust in God, and to hang on, to persist until what we pray for becomes a reality we can celebrate.
With these ideas as a backdrop let us consider a couple of Paul's ideas about prayer as the real antidote for anxiety. One of the things we know about Paul is that life got much harder for him after his conversion on the Damascus road. He faced many anxious times in his attempt to share the good news about Jesus.  
Paul suffered some type of chronic physical ailment, was imprisoned, beaten, run out of town, shipwrecked, contended for the gospel with unbelievers in hostile situations, criticized for his preaching, and at times totally dependent on the goodwill of others to supply his basic needs, and put on trial for his faith. He knew about anxiety and how to deal with it.
The first thing that seems obvious about Paul's approach to troubling situations is that he firmly believed in God's sovereignty in his life.  Simply put, Paul believed that whatever God allowed in his life he would use for good. We are never abandoned to the whim of fate or without an anchor in the storms of life.
For the believer, this means that there is gain, there is good to come from the pain, problems, and disappointments in life. This hopeful and reassuring reality should help us pray with thanksgiving and assurance. My favorite verse related to this idea, and perhaps Paul's clearest statement, is Romans 8:28: "And we know that in all things God works for the good of those who love him, who have been called according to his purpose."
The specific statement about prayer as the antidote for anxiety is found in one of Paul's "prison epistles." It is called a prison letter or epistle because Paul was imprisoned in Rome and facing a possible death penalty for his faith. These words resound with an assurance that comes from having seen how prayer had calmed and focused him in many uneasy situations in life, and even now as he awaits what is before him. Philippians 4:6-7 reads as follows:
"Do not be anxious about anything, but in everything, by prayer and petition, with thanksgiving, present your requests to God. And the peace of God, which transcends all understanding, will guard your hearts and minds in Christ Jesus."
How do these words apply to us as we deal with our anxiety-causing situations?
First, this is a negative command. We are to STOP, quit, to refrain from being controlled by anxiety. This is not a polite suggestion but a directive, a command. STOP IT. But, how do we stop it? Stay with me a bit longer. 
Second, it is an all-inclusive command. We are not to be anxious about "anything." There are NO  EXCEPTIONS. There is nothing that we are to worry about. Marital problems, money issues, sickness, world calamities, aging parents, unruly children, and whatever else you can name or imagine are covered by this command.
This gets uncomfortable for us because it destroys the illusion that we have control over some things in our life. All these things are important but worrying is not the solution to any of them. Paul tells us we are to worry about absolutely nothing. 
Third, is a transition indicated by the word "but." Paul does not strip away our useless worrying about real-life issues without giving us a better solution. The word "but" signifies he is going to tell us what we need to do about the things that worry us.
Fourth, we are given a positive command to complement the negative one. In the negative command, we are told not to worry about anything. With the positive command, Paul gives us a new and effective way to handle anxiety. And, it too is all-inclusive. "…but in everything. " What? What are we to do? We are to pray to our Heavenly Father.
Fifth, we are told how we are to pray concerning the things that make us anxious. Prayer is not magic. This is not to be a flippant, light-hearted approach but an earnest, heartfelt, sincere asking. Praying like this is a serious and sober matter. It requires a willingness to come time and again and to prove our earnestness about what we pray. This is the idea behind "prayer and petition." It has nothing to do with God's reluctance to bless us. It is about proving our readiness to receive the blessing and to give God the glory for it.
Paul uses the word petition as a way of telling us to be specific, to be clear in our own mind what we want God to do for us. Generalized phrases such as "God bless us" do not qualify for a petition. How, specifically, do you want God to bless you? A petition is a specific statement of our need or desire. Search deep within your heart for what you need and say that to God.
Paul also adds the idea of giving God thanks with our petition. We are to pray, to petition God "with thanksgiving." Thank God that he has given you life today and any good thing that comes to mind; all of it comes from him! This awakens gratitude and confidence in our praying. It also is a powerful aid in dealing with anxiety. We simply cannot be anxious and thankful at the same time. You may notice that anxious people are not very thankful people.
Sixth, peace will replace anxiety and become our state of mind when we pray this way. When we truly turn the situation over to God something beyond human understanding happens. God gives us a sense of peace that will stand like a sentry or guard over our mind and heart. Like a powerful guard protecting a valuable treasure, God's peace will keep you safe from the devastating effects of anxiety.
If you want to replace the spiritually debilitating grip of habitual anxiety with God's peace, try praying as Paul encourages us to pray. How do you know this works? There's just one way to find out; try it for yourself! 
Once you receive God's peace through prayer, go about life addressing your concerns as responsibly as possible and trust him for the outcome. God will bless you with his peace if you follow the biblical mandate about how to pray.
Additional help. Here is an article with 25 specific prayers for stressful times you may find helpful https://www.crosswalk.com/faith/prayer/prayers-for-anxiety-when-youre-heart-is-overwhelmed.html