How do you know when you've succeeded as a parent? What are the things you need to do to insure success? Where do you begin? In this thought-provoking treatment of parenting Dr. Davis asserts that successful parenting begins with the character of the parent. The parenting principles in Parenting With A Purpose are illuminated by case studies from the author's career as a pastoral therapist. You will find yourself intrigued by the stories and encouraged by the practical, common sense suggestions in each situation.

How do you know when your child is ready to become a Christian? Dr. Davis addresses this and many more practical questions about Christianity in his book Children and the Christian Faith. The book is designed to help parents understand and fulfill their role as the primary spiritual guide of their children rather than delegate this privilege to a religious leader. The book has extensive information on how a parent can become their child's guide to a meaningful relationship with God.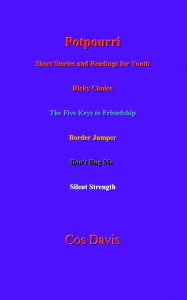 Potpourri is an assortment of short stories and an essay for youth. Youth will easily identify with issues such as overcoming debilitating fear, prejudice and bullying, taking a risk to tell the truth, and overcoming discouragement.Each story has a follow-up for further thought and discussion. The lone essay deals with questions about the true nature of frienship based on five criteria.
Wonderings presents eight thought-provoking essays on issues vital to responsible living. Dr.Davis approaches such subjects as faith, fairness, gratitude and choice in a refreshing and challenging manner which takes the reader beyond the usual, predictable perspective. Each essay will invite you to look at the subject in a way you may have never considered before!
Here's a book to help young children come to understand the practice and significance of the Lord's Supper and Baptism. It can be read alone by early readers, or read to children by parents or grandparents.
Interested in purchasing the set. Here you can get all three hard cover books at a discount.